Dyson Small Ball - A Revolutionary Product In The Line Of Dyson
Dyson Small Ball - A Revolutionary Product In The Line Of Dyson
Dyson is known for the revolutionary inclusion it makes every season with impeccable features and specifications included. Every vacuum by Dyson is different from the previous one. They are unique and quite modern in use and look. With so much that Dyson has to offer us, Dyson Small Ball is a name that has been gaining popularity over the years. It is powerful and strong and user-friendly for the efficiency of work. Although initially, Dyson had to go through a lot of criticism for its heavy designs that made it difficult for people to use.
To this question, Dyson had to come with a reply that was unbeatable and that is Dyson Small Ball. The name itself suggests that it is small and compact in size with great utility at an affordable price. This design of the vacuum is attractive owing to its size and the light weight feature makes it one of the most sought after Dyson vacuum cleaners.
Let Us Know More About It
Weight : The weight of this latest model is only 12 pounds and this makes it one of the lightest vacuums one can have for home and portable use. Anyone can use it and the maintenance due to the weight becomes greatly achievable. What more can one ask for?  Apart from being light weight, it has the following highlights-
It has two tier radical cyclones
The radius is kept quite long for making cleaning easy
The process of bin emptying will now become hygienic owing to its hygienic bin emptying technology
It also comes with a cleaner head which can be adjusted automatically
The best part is the warranty which is for 5 years
Suction Power : There are 19 cyclones in the vacuum cleaner and with the addition of two tier radical cyclones technology, the suction ability of this machine is uniform and ensures that every part of the building is cleaned with homogeneity. It is the suction power that people look for when they want to buy a vacuum. With Dyson Small Ball vacuum, you get the best suction power infused.
Consumption of Power : While most of the vacuums we know consume a lot of power making the power unit rise up ferociously, Dyson Small Ball vacuum consumes only 25 kilowatts per hour in a year. Thanks to its ability to work on 120 volts. It is quite low when compared to other vacuums.
Capacity to suck dust : It is really tiring to empty the bin every now and then. With this Small Ball by Dyson, you can have a good number of gaps to clean the bin. It has the capacity to retain dust equal to 0.21 gallons. Doesn't this piece of information give you a sigh of relief? I bet it does!
Filter : The filter that the vacuum comes with is easily washable and having said that it needs to be washed once in every one month. You can simply run cold water through the filter and your job is done. As it is coupled with the cyclonic system, the airborne particles are out of the league and make the task even easier.
Related Blog to Read : Dyson Vacuums – The Best Appliances Designed For Versatile Cleaning Needs
Warranty and its highlights : It comes with a generous five years warranty under which you have the following privileges:
You can claim if there is a defect owing to the make of the model
The claim can also be applied if there is any defect that you notice within that five years
If the system malfunctions although this is next to impossible
The confidence that Dyson has displayed in this complete vacuum cleaner is quite remarkable. It boasts of the power and strength that one can have with it and the durability is impeccable.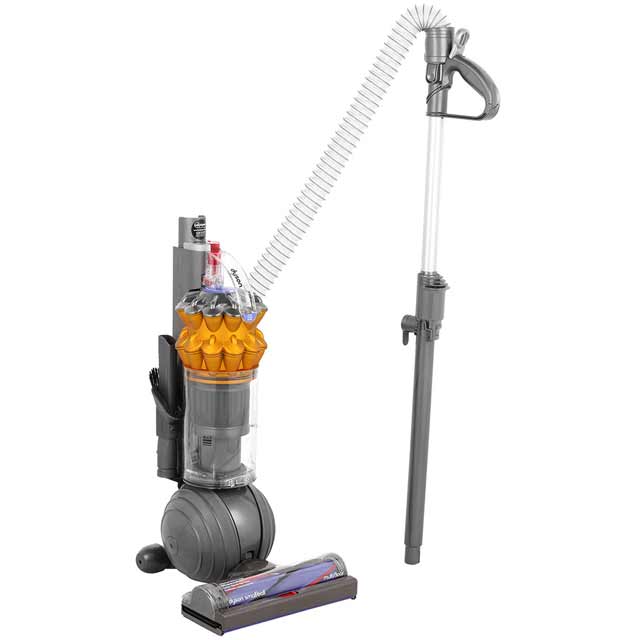 Great Portability : As it is light equipment, without spending on vacuum cleaners for various floors of the building, one can buy this and the job will be done on all the floors as it can be carried easily from one floor to another. The light weight makes it convenient for carrying to places.
Dyson has always been known for being one of the most competent brands in vacuum cleaning, With Dyson Small Ball, it surpasses its own abilities and it is truly a value for money. Without spending a fortune, you will get enough to squeeze from this small machine. There can't be a second thought that this vacuum cleaner can give a run for money to most of the other brands from all angles.
With great name comes a greater responsibility! This is true with Dyson Small Ball. It is already making a huge impact on the buyers and it will have to live up to the expectations of the buyers because everywhere, it has been gaining praises. It will definitely bring about a change to the utility of vacuum cleaning. Simplicity is the word to define it better.