10 Best Vacuum Cleaner Under $200
10 Best Vacuum Cleaner Under $200
Like any prudent buyer, you will also love to save some bucks on any purchase you make for your home; vacuum cleaner being no different. If you think it won't be feasible to get a vacuum cleaner that is high on quality and comes as low as just $200, then you are surely incorrect. We provide a list of good quality vacuum cleaner which price less than $200. Take a look:
Shark Rotator Professional Lift Away NV501
This vacuum cleaner uses cyclonic technology and has a suction that last longer than any regular vacuum cleaner. It is a three-in-one model- an upright, canister and lift away. HEPA filtration is used by it and comes with a number of attachments and a warranty for 5 years.
Hoover Commercial Elite (C1404)
It is not too expensive and is quite light in weight. This upright vacuum cleaner comes with a warranty of 1 year and is considered good for both bare and carpeted floors. The vacuum cleaner comes with attachments that are not that complicated in terms of assembling. This vacuum is good for pet homes as it can pull pet hair quite well. It has large bags which are easily changeable.
BISSELL 9595A Vacuum With OnePass
This light weight vacuum has an innovative designer brush to its credit that cleans more efficiently by rotating down the carpet. The cyclonic system is used for providing a powerful suction to the carpet. It has a turbo brush tool for the purpose of cleaning stairs, upholstery and other home furniture. A multilevel filtration is present along with a washable foam tank filter.
Oreck Commercial U2000RB2L-1
This commercial line of upright vacuum cleaners has always impressed its users in unexpected ways. It has a 6500 rpm powerful motor which gives effective results. It also allows you to swiftly switch from low noise cleaning to a strong suction cleaning. It comes with a 40 ft. long power cords that gives scope for vacuuming a large area. It weighs just 9.1 lbs; hence a very light weighted product. It carries a warranty of a year and comes with side edge brushes.
Panasonic MC UL915
This vacuum has a provision for automatic height adjustment of the nozzle. It has a power cord with a length of 35 ft. and a head light. It comes with a dirt sensor that indicates when an area is dirty with a red light and turns green light when the area becomes clean. It has a motorized brushbar. It comes with a few attachments which are easier in terms of assembling. The low profile nozzle aids in going around the furniture for the purpose of cleaning.
Eureka EasyClean Corded Hand-Held Vacuum, 71B
This vacuum cleaner has a strong suction and a hose which can easily clean the stairs and also the interiors of your car. It has a crevice tool for cleaning the carpeted stairs. For serving the purpose of extending cleaning, it comes with a 20 foot cord that can be wrapped up easily when not in use. It has two motors- one for the purpose of suction and other for revolving the brush. The total weight of this equipment is just 4.8 pounds. If you get this one, convenient cleaning is what you can have.
Dyson V6 Trigger
This line of cordless vacuum cleaner from Dyson is a huge success in the market. It has a powerful digital motor similar to the one as used in high budget models from Dyson. The Nickel manganese cobalt battery is used in this motor which works for 20 minutes. It has 2 level filtration to remove microscopic dust and dirt. It comes with 2 attachments- crevice tool and combination tool and carries a warranty of 2 years.
Euro-Pro Shark Navigator Lift-Away (NV350)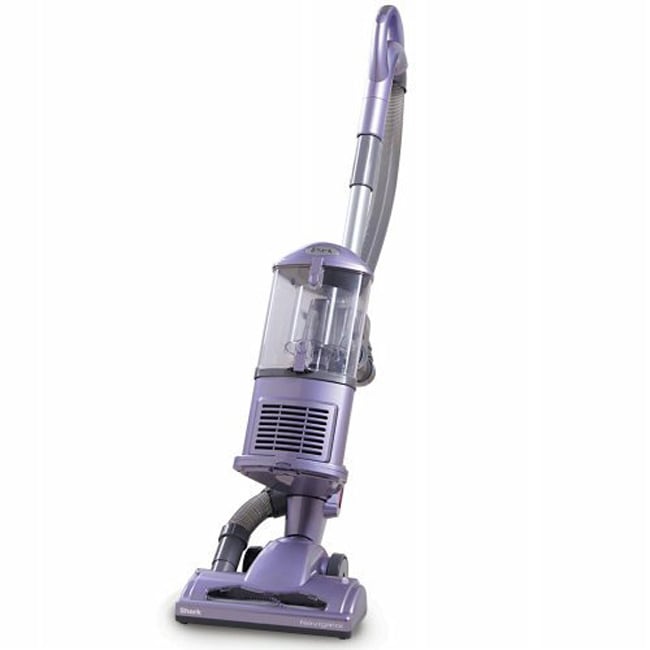 This vacuum weighs just 12.8 lbs and has a detachable canister and hence is highly portable. It has a sealed system that ensures that air which enters the vacuum has passed through the different levels of filtration. It is certified by the British Allergy Foundation and has a number of attachments.
Electrolux Ergorapido Ion
It has an 18V lithium ion battery and hence can run for a span of 30 minutes at a slow pace. The dirt canister and filter can be easily cleaned and weighs lighter. The battery can last longer than other vacuum cleaner's battery.
Shark Rocket Deluxe Pro HV321
It has a power unit of 500 W and weighs just 8 lbs. This light weighted stick vacuum can be easily converted in a handheld vacuum cleaner by detaching the nozzle and the tube. The dustbin has a capacity of nearly 0.22 gallons, which is an attribute for a stick vacuum cleaner. The bin can emptied both from top or bottom. It has a swivel nozzle and a 30 ft. power cord for smooth cleaning experience.